Back in the dark ages, before the internet, the best way to find willing fuck partners was in swingers' magazines. Not much different than today's
online versions
, you could buy an ad or browse the listings of singles and individuals looking for someone to play with. The best versions of these magazines were local and for whatever reason I had always had pretty good luck in certain cities. Charleston, South Carolina was one of those places and when I was in town I would usually pick up a copy of a local publication to see what I could find. That's what I was doing one warm sunny afternoon in an adult bookstore on Rivers Avenue. Of course, I was also checking out some of the other stock when I noticed a guy paying a little too much attention to me. Frankly, I don't care what gets you off and I have had guys approach me in stores, but once they know you aren't interested, they generally move on. This guy never made eye contact, but he was definitely staying a little closer than I preferred.
I paid for the mag and headed back to my car. That's when things turned interesting. Sitting in the passenger seat of the car right next to me was a lady. Blonde. Mid 40's. She dropped her eyes as I approached, looking a little nervous. As I walked to my door, I could see some nice cleavage busting out of tight white blouse with several buttons left open. She was wearing short, a dark skirt and hand some killer legs. Needless to say, I decided to spend a minute or two skimming my new magazine right there in the parking lot. No need to hurry off. I no sooner got in the car and shut the door, but who should see coming out the store but my "buddy" from the inside. At first I thought he was headed toward me, but then I realized that he was going to the car next door, the one with the lady.
He got in, but didn't start the car. They talked for a minute and then I realized they were looking at me. The next thing I know, she is lowering her window and he is trying to get my attention. Not sure exactly what he was after, I cautiously opened the window and said hello. He asked if I came here often. (Now there's a line!) I explained that I was from out of town and just dropped in to pick up a magazine. They exchanged a quick glance. To cut to the end of the story, they were out looking for a third... for her. He saw me inside and thought that I was a good candidate. She was interested when she saw me come out of the store. 30 minutes later we were in a motel room for an excellent session. He mostly watched.
Turns out, that was his thing. They were inexperienced, but he got off by watching her. They had gone to the bookstore, hoping that she could give him a show in a peep booth, but (unknown to them) they had picked the only bookstore in the city that didn't have booths at that time. I suggested that they might try another place sometime and they agreed to think about it. A day later I was fucking her again, in a booth in bookstore, while he watched through a gloryhole. He also watched as she sucked two other cocks that came through a second hole on the opposite wall.
The real Jennifer Welles
Click to see her in action
We got together several times while I visited Charleston over the next year or so. She was a sensuous woman, who knew how to use her body to give pleasure... and to get it. She always reminded me of
Jennifer Welles
. (old fart alert. You'll have to
look her up
!) She was quiet, somewhat reserved and shy, but an absolute sexual animal. Her breasts were full and firm and those excellent legs were topped off with a hard, round ass that just begged to be spanked. Fucking her on the comfort of a bed was an unforgettable experience, but taking her out in public unleashed a whole different side of her.
We had talked about theater sex on several occasions. Hubby was ready for it on day one. It took her a little longer to come to terms with the idea. She was afraid that someone she knew might see her, but eventually her darker desires won the day and we determined to visit the
Chateau theater on Dorchester Road
. The plan was for the two of us to go together. He would go on his own, watching us as though he was just another stranger in the crowd. I told him about what time we would be there, late on a weekday afternoon, and he drove over straight from work.
I picked her up at their place, somehow denying the temptation to enjoy that amazing body before I even got her out of the house. She was wearing that same, form-fitting white blouse, unbuttoned to show major cleavage enhanced by a push-up bra, dark mini-skirt, thigh high stockings and heels. I had her remove her panties before we left. On the way to the Chateau, I stopped at that bookstore where I had first taken them several months before, exposing her to several guys through the gloryholes and even in the hallway to warm her up and to help with her jitters. By the time we left, she was soaked, but untouched by me or anyone else.
When we arrived at
the Chateau
, I saw her husband's car, and several others, in the parking lot. The clerk, whom I had chatted with on past visits, just smiled when I told him we wanted to enter the theater. There was no charge. He said that he hoped we would be staying until after 6:00. I found out why later. The entry to the theater was from the rear. The door opened into the left aisle as you faced the screen. There were only a few rows of chairs and all of the seats on that left aisle were taken. So I led her down the aisle, across the front of the room, letting every guy get a good look at her, and then up the right side. We slid into the middle row and I guided her to about the middle of the row. She sat on my left, with an empty seat to her left.
I didn't notice her husband in the room, even though I was pretty certain that I had seen his car outside. I figured he was in the head or maybe back in the booths. The boys didn't move as we entered and sat down, though there were a couple of appreciative moans. We sat quietly at first, letting her relax and take in a few minutes of the movie. After 5 minutes or so, I noticed that she had begun to tentatively look around the room. She leaned over and asked if I had seen her husband. I told her that I really hadn't been looking for him, that I couldn't take my eyes off of her. She told me that she had hoped that he wouldn't come in for a while, since she thought it would be easier without him there.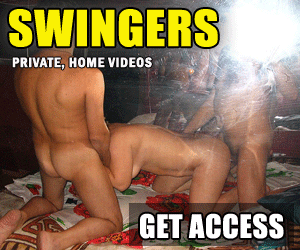 "Forbidden swingers videos. Get Access!"
"Well then," I said, "we'd better get started." With that I leaned over and kissed her, placing my right hand on her firm left tit and gently squeezed it. I felt her body stiffen as she let out a soft surprised sigh. We continued to kiss as I worked my hand under her blouse, then to a button, releasing some of the pressure on that thin, white fabric. The guys began to move into the row ahead of us. The guy on the far end of our row began to approach, but I gestured for him to keep some distance. I dove back in, this time taking my mouth to her chest, kissing the cleft between those impressive tits and continuing to release the few buttons that were left. I pulled a breast out of it's tiny perch and began suck on a nipple that was already hard with anticipation. As she moaned, I worked my right hand down to her thigh and wasted no time in moving it up under her skirt. She was hot, and eager, and ready. I found her slit, soaked and swollen, and began to center my attention there. Leaning back I slid her skirt up, revealing her pussy to the guys in the row ahead of us. She instinctively spread her legs, letting me easily slide two fingers into that slick snatch.
Looking up at her face, I saw her looking back at her appreciative audience. She was clearly getting off by being shown off. It didn't take much to bring her to her first orgasm, slipping two fingers in and out and using my thumb to massage her oversized clit. As she came, she threw her right hand into my lap, squeezing the bulge of my cock. When her orgasm subsided, she reached over and tugged at my zipper, smiling at me with those glazed eyes that I love to see in a woman who is happily sliding over the edge of her inhibitions, enjoying the sensation to its fullest. When she leaned over to suck my cock, I motioned for the guy to her left to take the seat next to her. She looked back when she sensed him there, but immediately went back to giving me an enthusiastic blow job while the guys in the rows in front and behind encouraged her.
You never know how far a woman is going to go, especially in her earliest porn theater sex experiences. Already I had her tits and pussy exposed, cumming, and sucking my dick while 10 strangers watched, so it was a good day by any measure. But when she sat up, sized up the crowd and then unsnapped the front of her bra so that she could give her boobs a nice unimpeded squeeze while all the boys looked on, I figured it was going to get even better. She looked at the guy to her left and smiled, then let her eyes drop to his lap. His pants were unzipped, but his cock was still hidden. She looked curious about what he might be hiding in there, so he pulled it out and began to stroke it for her. She played with her tits as she watched, then dropped a hand down to her pussy to give him a show as well.
By then, every guy in the room was stroking, hoping to catch her eye. I did a quick look around the room. There were 6 guys standing and sitting in the row ahead of us, three guys leaning over from behind and hubby, sitting two rows back, over on the left aisle, taking in the show from a distance as he jerked off. It seemed like it took forever, but she finally reached over to the guy sitting next to her and touched his dick; a little nervously at first, but soon she wrapped her fingers around his shaft and began to stroke. He lasted about 30 seconds before he erupted. As soon as he retreated a guy stepped over the seat from the row behind and took his place. His cock was bigger, which she commented on, and he lasted longer. He also played with those big natural tits while she stroked him. One of the guys in front reached over and touched a leg. When he wasn't chased away, another went for the other leg. Soon hands were coming in from everywhere.
I watched her as she stroked 4 guys to completion, then she noticed that one of the guys behind her was younger, and seemed a bit more shy. She wanted to do something "special" for him, she said, and turned her head to offer him her mouth. I suggested that she kneel on the seat, facing the back of the theater. Not only was she in a better position to suck his cock, but it allowed me the chance to get behind that beautiful ass and slide my cock into her cunt. Her juices were running down her thigh. I tried to stay slow and steady in my rhythm. but she bucked hard, wanting it fast and deep. I finished far sooner than I wanted to, but as I was pulling out, she said she wanted another cock.
"I want him to fuck me," she said, indicating that her young shy friend was about to get more than he ever dreamed of when he came into the theater that day. She asked me to give him a condom, which he quickly donned before driving his prick between her cheeks. I looked up to see that while the younger guy was banging her, she was sucking her own husband's cock. A few minutes later she was swallowing his load while the other guy was filling his condom.
With that she dropped back into her chair and I asked the other guys to back up, and give her some air. She took her time pulling her clothes back into place. I'm not sure when he left, but when I turned around, her husband was gone.
We were walking toward the theater exit when the clerk came in, cursing his luck for being too late. Knowing that it pays to take care of the help, I suggested that maybe she consider "one for the road". She blew him, while I watched, in one of the private viewing rooms; much to the chagrin of the other customers.
I drove her straight home and found hubby at the front door waiting for us. He suggested that I join them for a drink; which I had after we finished a very heated threesome on the living room floor. That time, he didn't watch!